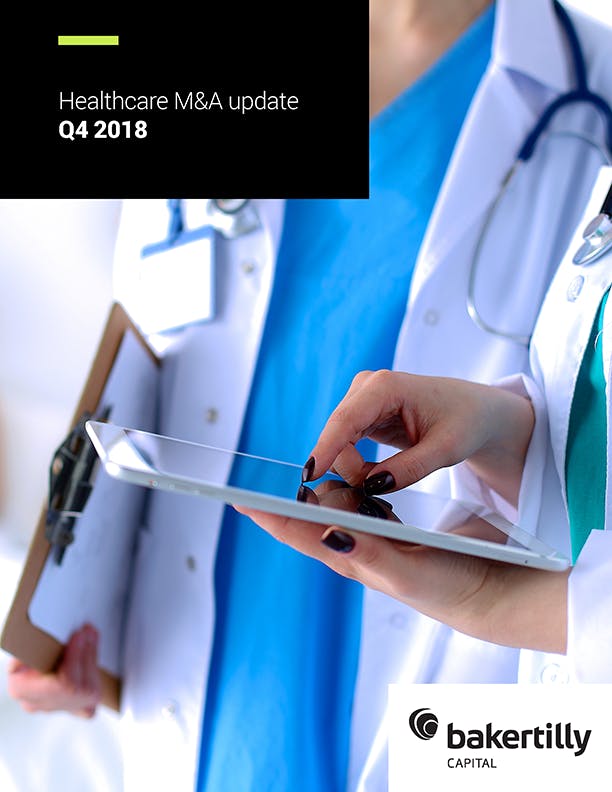 Sector spotlight: Orthopedics
The orthopedic space represents one of the few physician specialties to remain relatively untouched by outside investment. In fact, the industry saw its first major recapitalization when Southeastern Spine Institute partnered with Candescent Partners in April 2017. While private equity investment is commonplace in most other specialties including dermatology, ophthalmology and pain management, it remains relatively untapped in orthopedics.
Despite the lack of prior investments in the space, there are a number of factors that could make orthopedics a highly attractive opportunity for private equity groups:
Increasing outpatient surgical volume: Each year, the Centers for Medicare and Medicaid approve more procedures to be done in an outpatient setting. Over the past decade, patients, payors and hospitals have begun to realize the numerous benefits of shifting care to an outpatient setting. Lower cost per care, improved technology, patient preference, 23-hour stay programs and significant improvements in anesthesia and postsurgical pain management have shifted a significant portion of orthopedic procedures to outpatient settings.
Ancillary service offerings: The trend towards procedures being performed on an outpatient basis has allowed private orthopedic practices to shed ties with local health systems and create platforms with a broad array of services such as physical therapy, urgent care, X-ray, MRI, pain management, DME, occupational therapy, orthotics, sports medicine, walk-in clinics, etc. These service lines could have the ability to generate significant cash flow. When coupled with ASCs, these ancillary services can provide patients with efficient and effective episodic care for many procedures.
Aging population: The number of U.S. citizens ages 65 and older is projected to more than double its 2000 level by 2030 (35 million to 71.5 million). This aging population, in conjunction with the rise in poor joint health caused by obesity and age-related conditions, has created one of the fastest growing areas of need in healthcare. It is estimated that 60 million people suffer from chronic musculoskeletal pain, resulting in more than $100 billion in medical expenditures per year. The annual average direct and indirect costs attributable to persons with a musculoskeletal disease were $322 billion between 2012 and 2014. Over the last 18 years, costs associated with these conditions have risen from 3.4 percent of the GDP to 5.8 percent.
Shift to value-based care: As the healthcare system sees a progressive shift from volume-based care to value-based practice, orthopedic surgeons may feel pressure to cut costs and maintain excellence in service, even while reimbursements continue to decline and patient volume increases.
Falling reimbursement: As falling reimbursement puts pressure on smaller practices, many may understand that to remain viable in the new healthcare environment, they must partner with a bigger organization. The vast majority of the industry is comprised of small practices (between one and five providers). Traditionally, the only potential partner for private practices had been local health systems. However, current trends should allow private equity as a more favorable option for practices looking to gain size and scale.
Table 1: Recent orthopedic transactions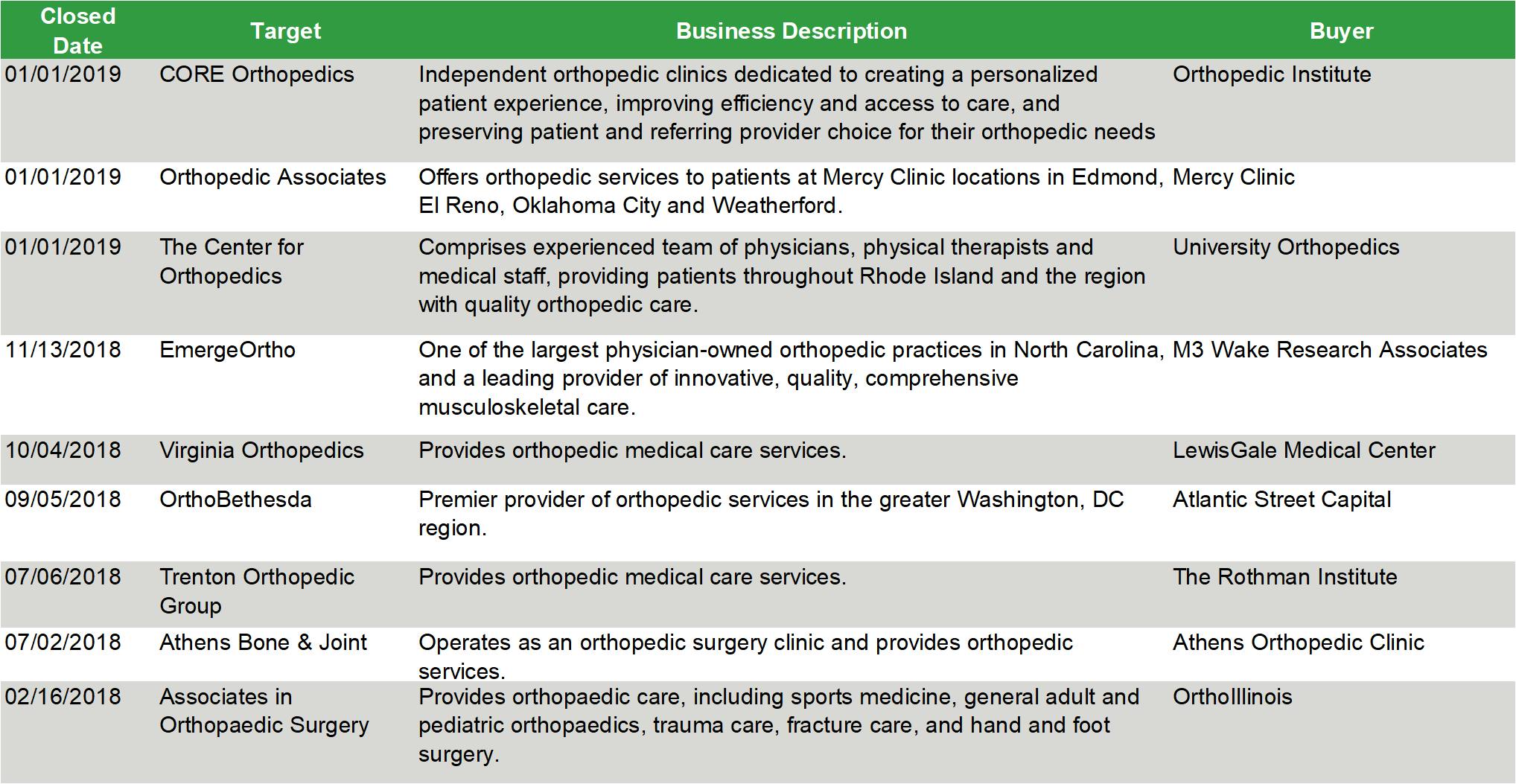 Sources: Becker's Spine, Modern Healthcare, PE Hub Healthcare Wire, Health Care Law Today, Healio Orthopedics, Advisory Board, American Academy of Orthopaedic Surgeons
For more information on this topic, or to learn how Baker Tilly Capital specialists can help, contact our team.
Baker Tilly Capital, LLC disclosure
Baker Tilly Capital, LLC privacy policy
Baker Tilly Capital, LLC social media disclaimer