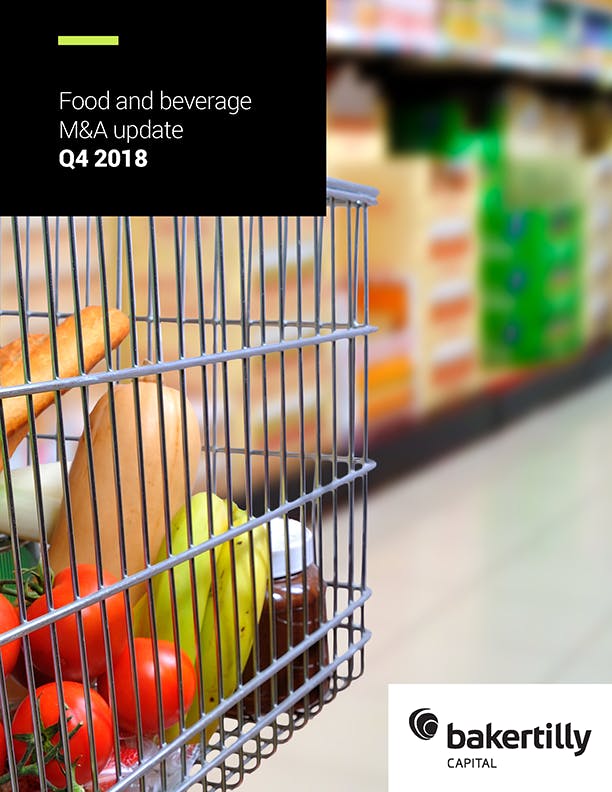 Major U.S. indexes
The fourth quarter of 2018 (Q4 2018) showed declining performance for the broader U.S. equity market, as the S&P, DJIA and NASDAQ closed down 14.0 percent, 11.8 percent and 17.5 percent, respectively, for the quarter. For the 12 months ending December 31, the S&P, DJIA and NASDAQ closed down 7.0 percent, 6.0 percent and 5.3 percent, respectively.
Food and beverage relative performance
As of December 31, 2018, only one of the five food and beverage segments exhibited increases on a trailing 12-month basis. As a whole, segments were adversely affected by growing concerns over global trade relations, several Federal Reserve rate hikes and slower earnings growth.
The agribusiness segment performed the best of the five food and beverage segments, albeit with very modest gains. This segment exhibited stock gains of 0.1 percent, leading the laggard performance of the S&P 500 index's 7.0 percent decrease during the observed period. The majority of the agribusiness segment experienced stock prices within 70 percent of the 52-week high, which led to the modest gain. The sharp decline of the natural/organic segment was driven by weak performance of three of the four constituents. In particular, United Natural Foods, Inc.'s ("United") poor 2018 performance helped lead the decline in the natural/organic segment.
United's 2018 stock price fell nearly 80 percent during 2018, from $49.63 at the beginning of the year to $10.59 at the end of the year. One major factor in the decline of United's 2018 stock price was investors' disapproval of United's acquisition of SUPERVALU INC. ("SUPERVALU"). On July 26, 2018, United announced the acquisition of SUPERVALU for approximately $2.9 billion, an implied valuation of 6.9x LTM EBITDA. At the time of the announcement, SUPERVALU had 3,323 wholesale stores and 114 retail stores across the U.S. United's management advised the acquisition would expand both companies' customer bases and enable cross-selling opportunities. On the day the acquisition was announced, investors drove a 16.3 percent decline in United's stock price from a prior close of $41.18 to $34.48. As of December 31, 2018, United's stock price had not recovered.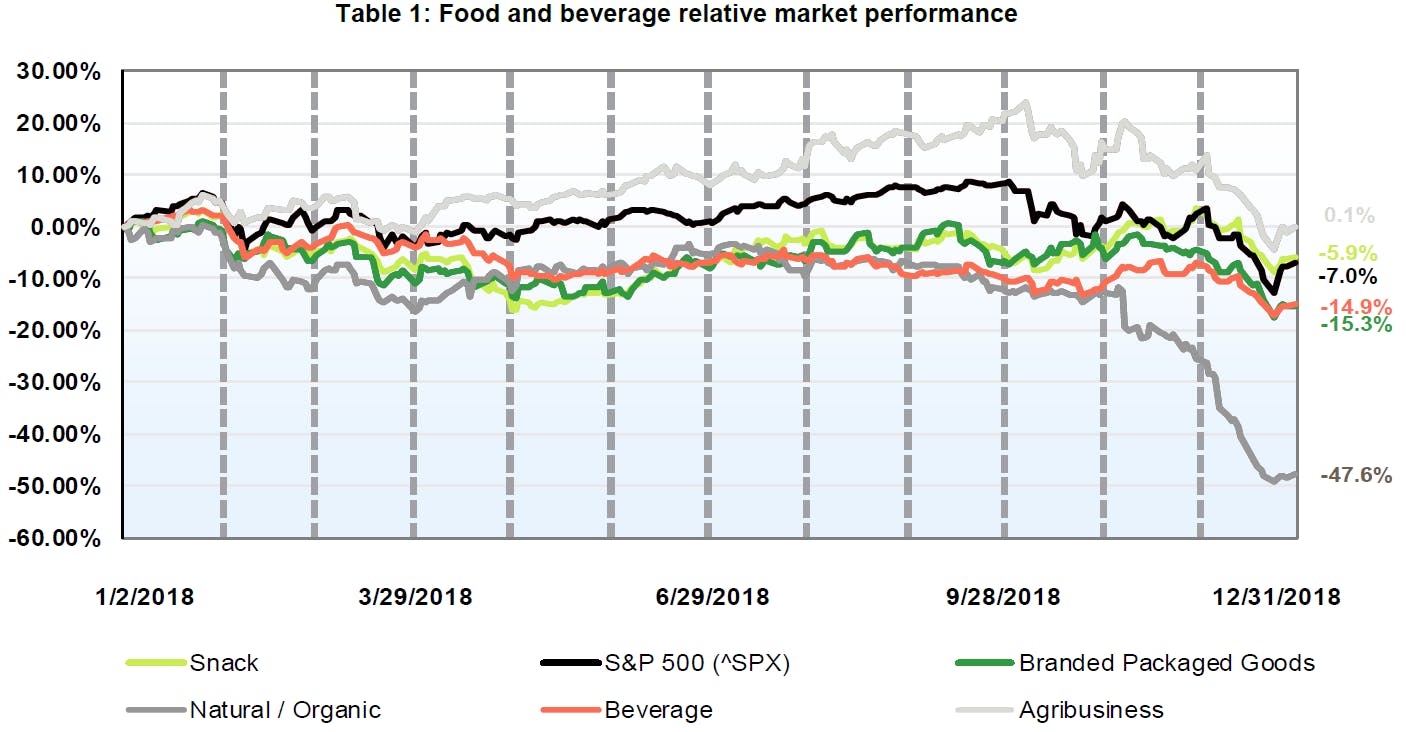 Source: S&P Capital IQ and Baker Tilly Capital research (January 2018)
For more information on this topic, or to learn how Baker Tilly Capital specialists can help, contact our team.
Baker Tilly Capital, LLC disclosure
Baker Tilly Capital, LLC privacy policy
Baker Tilly Capital, LLC social media disclaimer