The need for well-designed financial policies continues to play an important role in the overall financial strength of an organization. While the creation of a new policy is time-consuming, the good news is that a well-written financial policy can offer a multitude of ongoing benefits. Formally adopting financial policies for governments is tremendously important. If written and implemented correctly, financial policies can aid government leaders in decision making and help strengthen the financial health of the government. While there are many policies to consider, in this webinar we specifically discuss the recommended basics of establishing a debt policy, fund balance policy, and budget policies. Our presenter also reviews how all of these policies are integrated.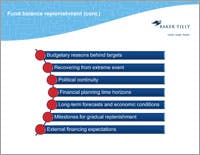 Download the presentation: Financial Policies 101 >
For more information on this topic, or to learn how Baker Tilly state and local government specialists can help, contact our team.