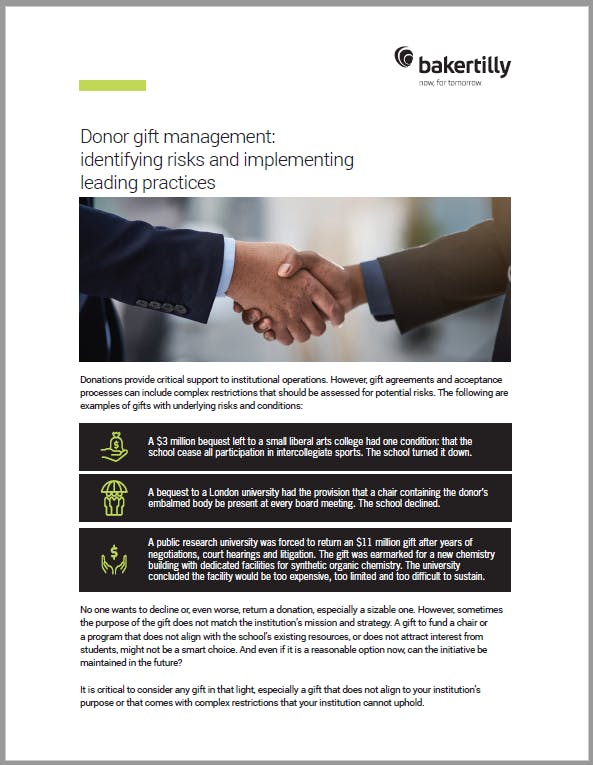 Donations provide critical support to institutional operations. However, gift agreements and acceptance processes can include complex restrictions that should be assessed for potential risks. The following are examples of gifts with underlying risks and conditions:
A $3 million bequest left to a small liberal arts college had one condition: that the school cease all participation in intercollegiate sports. The school turned it down.
A bequest to a London university had the provision that a chair containing the donor's embalmed body be present at every board meeting. The school declined.
A public research university was forced to return an $11 million gift after years of negotiations, court hearings and litigation. The gift was earmarked for a new chemistry building with dedicated facilities for synthetic organic chemistry. The university concluded the facility would be too expensive, too limited and too difficult to sustain.
No one wants to decline or, even worse, return a donation, especially a sizable one. However, sometimes the purpose of the gift does not match the institution's mission and strategy. A gift to fund a chair or a program that does not align with the school's existing resources, or does not attract interest from students, might not be a smart choice. And even if it is a reasonable option now, can the initiative be maintained in the future?
Read our article to learn tips to align potential gifts with your institution's mission and develop ongoing relationships with donors.