You are disconnected if you haven't ascertained that craft beer is accelerating at hyper speed across the US and around the world. Big brewers, private equity firms, and new artisans wish to brew, build and buy their way into this hot category of the beer industry. The craft beer industry today is like the gold rush of 1848 where territory expansion is in high gear. The lure of quickly expanding geography, selling of distribution rights, incremental volume and added revenue can cure all sorts of financial ills overnight, but will it erode your brand equity?
Those who have done their homework know it's critical to go a mile deep and an inch wide before expanding horizons beyond your home turf. The question becomes how will you transfer the strength of your localness across the state or country? What will you do if you fail? What will you do after the honeymoon phase is over with your distribution partner or they acquire another dozen or so "hot" craft brands for their sales team? How will you keep the attention and share of mind you deserve with your distribution partners?  And what will you do to breathe life back into your brands when the shiny dime effect fades?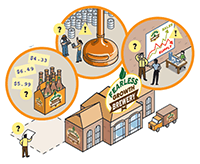 Growth strategy decisions can be perplexing. Tanks, centrifuge, feet on the street, additional sales personnel, debt repayment - how do you make sure you are making the right moves at the right time to capitalize on opportunities and enhance your revenue? These questions require true beer industry expertise. The facts are simple. If your consultant hasn't walked in and out of 200 craft brewers and road mapped common growth issues that most brewers face, they are probably not the right consultant for you.  
On average, 1.7 breweries are opening their doors daily in 2015. Craft beer has grown to 11 percent of the total beer volume mix in the US and 19.3 percent share of the revenue. This massive influx of newbies joins the approximately 3,750 current craft brewers trying to stay ahead and on top of a very competitive landscape. It is important for breweries to have a solid business plan to win at retail in this crowded market. 
Walk into any restaurant or package liquor store these days and you can clearly see the growth of craft beer. Most experts are saying that this is not a phase, but a revolution in the beer industry. According to the Brewers Association, craft volume is up 16 percent through June of this year and 18 percent for 2014 vs the overall beer market which was up only 0.5 percent. Beer enthusiasts across the country are taking notice and many are throwing their hat in the ring. As more and more brewers enter the market, it becomes critical for breweries to have a solid business plan to rise above competition in a crowded retail market. Sales channel marketing is not a term many have heard while home brewing but it's becoming a key part of their retail discussions today. Brewers are looking for direction in all phases of the 3-tier system (brewer, distributor, and retailer) that allows beer to get from the tanks to the shelf and on tap.
"Breweries across the country are looking for help in all phases of their business. From building a solid foundation with programming that translates in all sales channels, tracking the marketing commitments execution of their distributor partners, to ensuring standards and processes are being executed at retail. Brewery owners are realizing they need support to keep their train on track. This is where we can help." Baker Tilly was quick to elaborate that this is just a small glimpse at the complexity of sales channel marketing. It should start with a strong ownership vision and strategy that's cascaded with clear communication to their distributor partners and internal team members.   
For more information on this topic, or to learn how Baker Tilly craft brewery specialists can help, contact our team.