Reprinted courtesy of Beverage Master.

In the ever-changing and often extremely volatile landscape of distributor/supplier partnerships, what adjustments have you made to your business plan or sales and service strategy? What processes can both parties implement to optimize, streamline and improve interactions with the other? These are the difficult questions that often go unanswered by suppliers and distributors proactively as many prefer evolution over a revolution solution. Competition is fierce among brewers as more and more are entering the industry. Distributors are also feeling the pressure of managing their growing portfolios. We all knew there would be a bottleneck with SKU proliferation but didn't know who would push back first, retailers or distributors. Everyone wants the same thing; strong margins, high gross profit per case and most of all, something consumers want to buy. 
As promotional discounting continues i, brewers are facing tough challenges to keep their portfolios relevant. Many craft brewers are discovering that their brand sales mix is dominated by one or two brands while their remaining portfolio struggles to reach double-digits as a percent of total sales. Distributors are feeling pressure from their supplier partners to beat, or at a minimum match, last year's sales trends. If that were possible for ALL suppliers, distributors would be achieving those targets and we'd also be seeing rainbows and unicorns at every retailer location.
Retailers are also feeling pressure from their peers - aggressive chains, larger independents and mass merchandisers are providing notable discounts and continuous retail programming to attract consumers. Even the largest retailers have products on the shelf or on tap that don't turn over quickly. They too have space constrictions and want to see better velocity, margins/gross profit and simplicity with their portfolios. The instances of a craft brewer having their full core lineup across two cold shelves or having multiple draft handles for the same supplier are rare, unless each SKU is achieving strong sell-through and high gross profit. SKU proliferation is at an all-time high and retailers are looking for ways to cut back rather than expand offerings. If consumer pull doesn't match expectations, retailers will relentlessly challenge future offerings from the sales team. A supplier may have one or two brands performing well, but the impression left when the rest of the portfolio is failing puts the credibility of the salesperson at risk with little chance for future SKU consideration.
Consumers want innovation and retailers are demanding what's hot, but at the same time they are pushing back on incremental space. Distributors can't afford to lose credibility with retailers supporting brands that are not selling well. They are often forced to pull from their own allocated space to make room for new SKUs. Suppliers with taprooms are constantly experimenting with new brand innovations and tweaks to find a better tasting, more appealing brand. Herein lies one of the biggest issues in the supplier/distributor relationship: how can suppliers get all of their brands to the market while the distributor battles for more allocated space without creating a ripple effect triggering unwanted repercussions with another supplier? Retailers are refusing to add brands/SKU's to their list without removing another.
Suppliers and distributors must work together to realize better results. Somewhere at some point, every distributor made an objective decision to partner with their current suppliers. Distributors own the brand rights and should treat them as assets. It would be like if you took your car in for service and got a tune-up, new wipers and tires while forgoing the oil change. That isn't a good way to treat your asset or better said, your investment. What should distributors do to make a difference? Get engaged with their suppliers and follow a customized "maintenance plan" that provides the best foundation for successful growth. 
Strategy and engagement in the market is important to connect loyal consumers to the brands. Suppliers are artisans and do unbelievable work getting their beer to taste the way they intend each time. What can be problematic is their competitors are getting better at doing the same. As the industry matures, taking an extensive portfolio to the market may work, but doing it far from the brewery has proven to be a tactical challenge for many. To be successful in any geography requires honest, timely partnership communication that cultivates a sound understanding of the local community, consumer preferences, retailer expectations and their idiosyncrasies.
Opportunities
Asset support: So what's the answer that won't break the bank? It's easier to be successful if you can focus and manage what's on your plate. Let's start with the obvious – you have an asset but is it supported correctly? Supplier partners should have a strong understanding of the key sales channel foundations, but most do not because of their limited interactions with retailers across any given market. Distributors that are highly trained and knowledgeable in these areas should help close this knowledge gap for their supplier partners.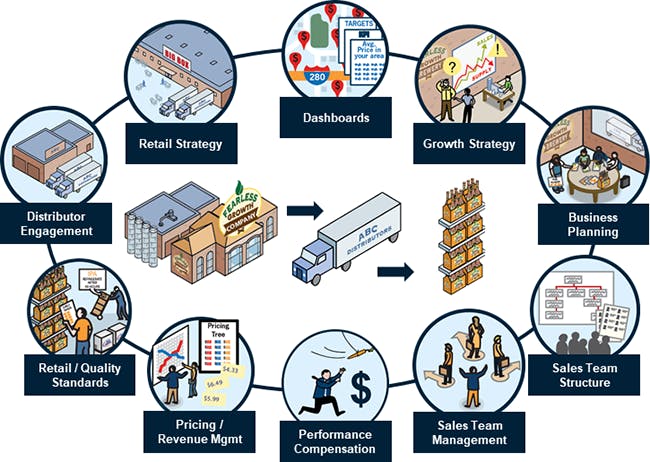 Dashboards: Supplier partners should have a reasonable degree of data acumen, and the ability to articulate it with distributors and retailers. Distributors should spend little time with their supplier partners discussing historical data. Bottom-line: Both partners should come to the party analytically prepared. 
Growth strategy: Full understanding of the vision is important to meet expectations for both distributor and supplier. Rate of sale is a great measure of brand health and can signal permission to expand into new territories. The plan and methodology shouldn't be a secret among partners.
Business planning: Suppliers and distributors must have an agreed upon, documented plan that's worth talking about with each engagement. Spending time developing an annual plan that is never revisited doesn't make sense. This is a working document that requires on-going tactical review to drive actions that accelerate performance. Those on the front line "selling" should be held accountable for what they agreed to achieve – if realistic goals are not met, there should be reasonable solutions, adjustments and/or support added to the plan.
Sales team structure: Utilize data to route reps and encourage collaboration between supplier and distributor while avoiding redundancy. From an on-premise perspective, supplier reps tend to allocate significant time to high profile "crafty" accounts that often limit and rotate distribution opportunities on a high frequency. While traditional macro suburban locations tend to be overlooked, they can have a high return on investment with the proper supplier call frequency and sales pitch. These accounts tend to be more loyal, have less tap rotation, and should therefore be higher on everyone's radar. Reps should have a good CRM, be objective on every call, be consistent in their approach, take detailed notes and follow up with distributor partners at least once a week.

 
Performance compensation: Goals/KPI's should be tied to the annual business plan and linked to their distributors targets (if they have any). Supplier reps should be compensated to achieve those defined targets that drive the business plan. Any new supplier reps should be compensated heavily on following their weekly and monthly routines to ensure they become habit. Retailers like predicable reps that actually make a strong sales pitch using data and laying out the financial upside for the idea.
Pricing / revenue management: Scheduled surveys help suppliers maintain a solid understanding of the competitive pricing landscape, consumer thresholds and whether potential adjustments are needed to achieve a targeted PTC (price to consumer). Enough surveys will uncover the competitive landscape in which consideration of small tactical or large strategic actions can be implemented to address distribution or velocity challenges.
Retail / quality standards: As the saying goes, pictures are worth a thousand words and suppliers that clearly define how they want their brands represented at retail will ensure their team and their distributor partners understand how to execute a consistent look that can appeal to consumers. Uniform retail programming is more critical than ever in sustaining brand recognition as the retail landscape becomes more and more cluttered both on and off-premise. Not every standard is achievable in each retailer, so be specific and provide some guidelines such as good, better and best scenarios when flexibility is necessary.
Distributor engagement: Scheduled meetings with clearly outlined agendas, proper preparation and objectives will help safeguard against missed opportunities. Sales data can be tracked, but market knowledge is hard to disseminate if you don't take the time to meet in a timely fashion. Be open-minded, know your data, have some understanding of competitive performance as a benchmark and jointly offer solutions that are not one sided. Remember, brands are assets and investment from both supplier and distributor are important to win at retail.
Retail strategy: The retail landscape is just as volatile as the craft beer industry. Suppliers and distributors that proactively collaborate on the most effective and efficient use of their cooperative assets will be the preferred partners of key accounts and get the opportunities as they arise.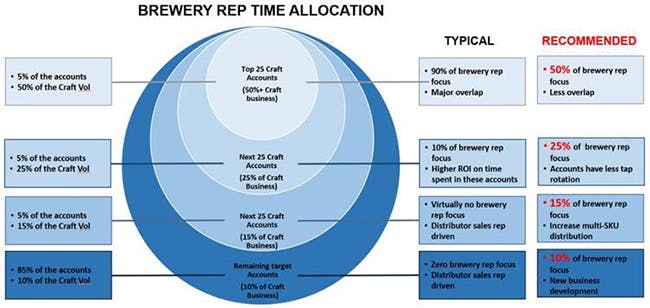 Portfolio focus: Another solution is to review what's working in the portfolio and limit the focus to the most successful brands and SKU's in select geographies. This strategy encourages distributors to focus their attention and simplify the pitch. Driving supplier brand equity is critical for your long term investment. Avoid the inch deep and mile wide approach as that is usually short-sighted and unproven to achieve long term growth. Limiting the portfolio to a few supplier SKU's can actually accelerate a supplier's overall performance as long as the distribution expands, space increases and rate of sale in accounts continues to rise. This practice can reduce administrative and forecasting concerns, simplify shipping logistics, keep code dates fresher, reduce out of stocks and increase focus from a brand support standpoint. Jointly creating a detailed plan to execute the SKU's that are working makes sense as long as both parties agree on how they will support the efforts and bring in other SKU's when goals of market penetration are consistently achieved.
Ride-with planning: A common point of contention is the ride-with. Distributors with a large number of suppliers have difficulty juggling schedules and meeting the demands on their sales reps, particularly those that manage key retail accounts. There has to be balance between working with your supplier partners and getting the job accomplished. Supplier and distributor reps need to plan their day in advance with mutually agreed upon objectives by account and a pitch approach that encourages both reps to be a part of the conversation. Retailers have a much harder time saying 'no' when they are facing a united, engaged front where both parties are driving home a common message. Even if timing doesn't allow for a full day of calls, shorten the collaboration to half a day or even specific accounts, but make sure the communication prior to those calls is sufficient enough to make it worth the effort.
Investment reviews: Distributors should consistently reevaluate their investment strategy for their suppliers by brand. Velocity and gross profit per case are both important metrics to consider in these decisions. Large macro brewers provide unbelievable support via TV, radio, sponsorships, retail programming, best practices and large point of connection material to drive their brands in the market. When calculating margins on these brands, distributors always consider the CPC spend and their team's time commitment for providing ongoing market intelligence to the macro field sales team. They should do that for their craft suppliers too. Smaller suppliers can't afford to support their distributor partners at the same level but can be long term contenders in the market with the proper attention, coaching and support from their distributor partner. Collectively working the investments will lead to deeper penetration of the market and a mutually profitable future for both parties.
As we approach 7,000 craft brewers across the country, all participants in this industry should re-evaluate their position in the market, be realistic with expectations and build a plan that perpetuates ongoing success. Business plans should be built with supplier and distributor capabilities factored into the plan. Discussions around reasonable objectives, appropriate communication protocols to monitor retail execution and industry knowledge must be shared between both parties to maximize the investment. The suppliers and distributors that manage their relationship and navigate the storm of today's craft beer industry will be the ones that enjoy a strong partnership and realize the fruits of successfully growing the brands in the market.
For more information on these topics, or to learn how Baker Tilly craft beverage specialists can help, contact our team.
i Beer Business Daily August 31, 2018; Our Labor Day Pricing Roundup