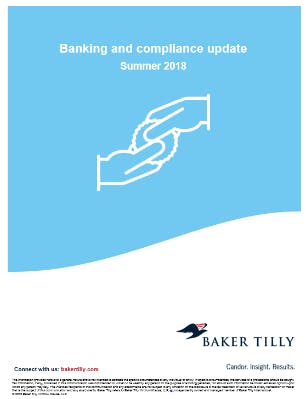 Baker Tilly's Banking and compliance update provides you and your banking institution with timely information about industry hot topics, developments, trends and more.
Some of the topics covered in this edition include: 
EGRRCPA
CFPB updates
TRID news
Flood insurance extension
Reg CC rule
CRA and mortgage news
Banking and compliance update – Summer 2018
To sign up for these updates and resources about industry trends and timely topics, please sign up to receive our newsletters and mailings.
For more information on this topic, or to learn how Baker Tilly banking specialists can assist you, contact our team.