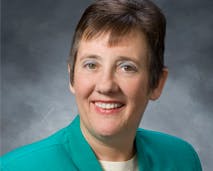 Baker Tilly welcomes specialist in cooperative services Teresa (Teree) Castanias, CPA joined with the firm recently, bringing her significant experience in tax compliance and consulting services focused on cooperative issues. This experience comes from many cooperative enterprises with an emphasis on food production and agribusiness.
Teree has substantial experience leading and coordinating tax engagements and litigation support services for cooperatives. She is past Chairman and a member of the Legal, Tax and Accounting Committee of the National Council of Farmer Cooperatives (NCFC), past Chairman and a member of the Tax Committee of the National Society of Accountants for Cooperatives (NSAC). She is also a frequent speaker concerning tax issues related to cooperatives at annual meetings of the NCFC and NSAC, as well as content contributor to NSAC's "Cooperative Accountant" publication.
"We are pleased to have Teree joining the Baker Tilly food and beverage team" said Brad DeNoyer, firm leader of food and beverage. "Teree's leadership and experience with cooperatives will allow us to continue to provide exceptional client service and valuable insights to our clients."