Food and beverage companies often overlook tax credits and incentives that could impact their business by recovering a percentage of their business investment in research and development (R&D), job creation, and other growth-related activities. In a time when there is economic uncertainty, it is in the best interest of your company to enhance your bottom line by taking advantage of credits and incentives available to the food and beverage industry.
To fully utilize the credits and incentives available, we offer companies the opportunity to evaluate their costs and activities, as well as future plans, and to thoroughly understand pre- and post-tax consequences.
Let us help you lower your financing costs, increase your investment returns, and enhance cash flow.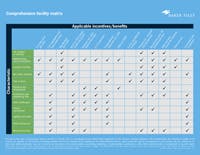 Download the credits and incentives facility matrix >
Contact us for a comprehensive Baker Tilly facility review that can assist you in identifying all potential areas of opportunity to maximize financial incentives related to your company's facility or operational investment.