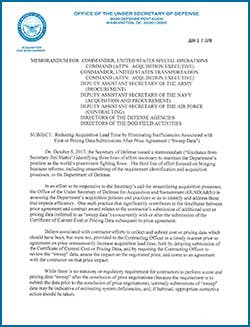 Contractors that engage with DoD components in price negotiations on TINA-covered contract opportunities might find Shay Assad's June 7, 2018, memo an interesting read. Read the memo >
We view this memo as somewhat of a paper tiger.  Cost or pricing data disclosure must be current, accurate, and complete – that's the point of the statute – to assist the government in price negotiations.  Apparently contractor disclosures of "sweep data" after price agreement has become a problem worthy of Mr. Assad's attention.  For sure, timeliness of contractor sweeps and disclosures can be a challenge when price negotiations drag on over a protracted period.
But rather than address that problem, for which we suspect the government bears much responsibility, the solution is presented as a thinly veiled threat to contractors: get sweeps done within five days after price agreement - or risk estimating system disapproval.
Although omitted from Mr. Assad's memo as a viable solution to this apparent problem, it has never been more important for contractors and PCOs to agree upon an alternate certification date (preferably prior to price negotiation) as permitted by the statute and regulations.  This logical solution would create efficiencies for both parties, and incentivize the government to negotiate price more timely.  Which is likely why this option is rarely used and excluded from Mr. Assad's memo.
For more information on this topic, or to learn how Baker Tilly specialists can help, contact our team.